2019.05.14
Neo House Tokyo business briefing session
We have decided to hold a business briefing session for Neo House Tokyo as follows.
What is vacant house renovation? What is a share house? Who will operate and manage it? I will answer your questions.

[Sunday] 1st: June 2nd (Sun) 13: 00-15: 00 / 2nd: June 3rd (Mon) 13: 00-15: 00
[Venue] Neo House Tokyo Nerima, 4-11-12 Koyama, Nerima-ku, Tokyo
[Participation fee] 500 yen (with one drink)
[How to participate] Please make a reservation by email or phone.
Info@neohousetokyo.com
03-6265-6000 / 090-2322-5105 (charge: Murakami)
* If seats are available on the day, you can enter without reservation.
Owners who own a vacant house but are in trouble because they don't know how to use it,
For those who are just interested in Neo House Tokyo, the concept of Neo House Tokyo,
I will explain the business outline such as operation and management.
Please feel free to visit us.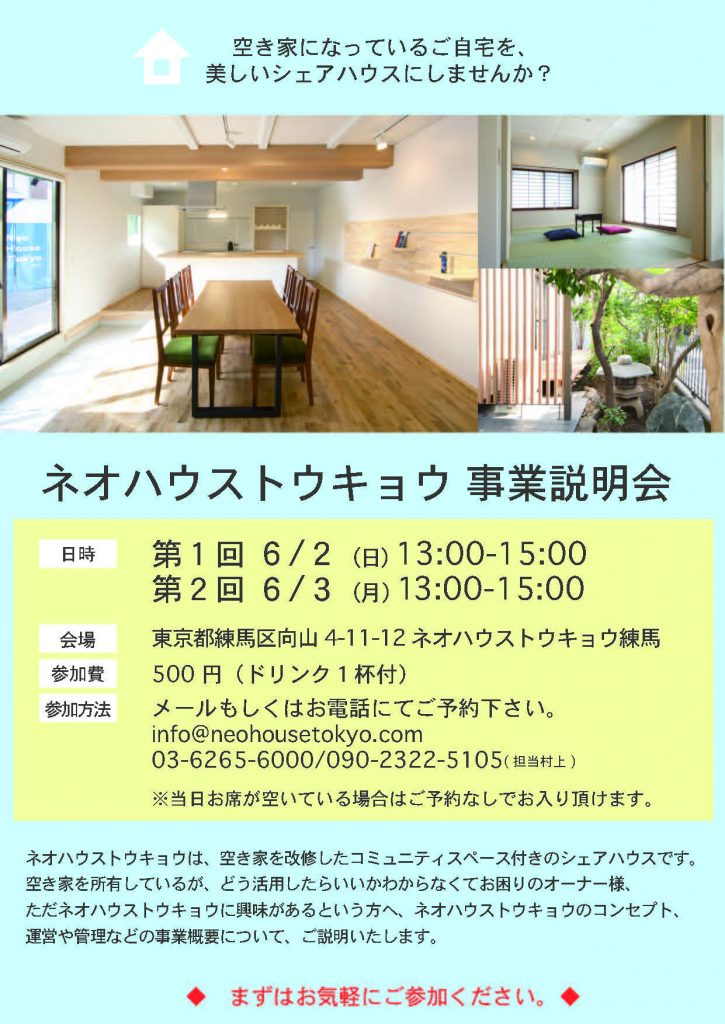 #空き家利活用 #空き家 #シェアハウス